useful links
Here are some useful links:
---
A source of rare and collectable titles from the more entertaining corners of the book world.
---
The world's largest public repository of Ripper-related information.
---
To showcase a growing Maybrick archive interlocking stories of Liverpool and the Maybricks with primary source material, plus reviews and articles. Co-ordinated by Chris Jones.
---
The monthly colour electronic journal of all things ripperological.
---
Simon McCleave Detective Fiction Author
'The Snowdonia Killings' is the first book in the DI Ruth Hunter Crime Thriller series and set against the majestic backdrop of Snowdonia. 'The Harlech Beach Killings' is the second book in the suspenseful Ruth Hunter Crime Thriller series. If you like chilling police procedurals, true-to-life characters, and psychological twists then this is for you.
---
---
24 GRAMPIAN GARDENS
LONDON NW2 1JG
TEL +44 (0)7511 576641
MAIL ORDER ONLY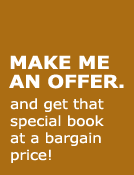 If you're after a particular title, enter your details below
Enter the details below and we'll be in touch shortly