Messageboard
To post a comment to the messageboard, you need to login or create an account.
Messages 1 to 5 of 5
Fellow Ripper enthusiasts and scholars....for those of you who may not know, there's another Ripper website out here in the ether... now in its 11th year. JTRForums ( Jack The Ripper Forums). com features some of the leading Ripperologists of this and of all time, who generously share their research with the community and world. Almost all the books Loretta sells are listed and many have been discussed thoroughly. Researchers such as Debra Arif, Robert Clack, Wolf Vanderlinden, Paul Begg, Martin Fido, Neil Bell, and Tom Wescott appear regularly, sharing their finds with one and all. Permit me to extend this invitation to you hoping you'll stop in and give the Forums a look. To register, simply email me at howard@jtrforums.com Thanks for your time. Howard
---
---
My definitive scholarly 502-page True Crime book 'Various Matters Forensic: The Thames Torso Murders' is currently listed as a Creative Project on the Crowd-funding platform website 'Pozible', in order to raise money via pledges to get me to London to engage a True crime agent and a True Crime publisher. Anyone who is interested in True Crime in general, or these cases in particular, may care to view the project page, and an accompanying video, at: www.pozible.com/project/34446 or by 'googling' the words 'Various Matters Forensic' or my nom de plume 'Stephen Gouriet Ryan'. If you know anyone else who might be interested, I'd be grateful if you would be kind enough to tell them about its existence...
---
---
Following on from the popularity of my Jack the Ripper talks and walks, I have spent the summer researching a number of new talks and walks in London. I now have a portfolio of 17 walks most of which can be delivered as a talk. There's also one talk, about The Titanic, which doesn't really lend itself to being a walk! Here's a list of my talk subjects. Let me know if you would like to book a talk. Jack the Ripper Americans in London Dickens' London The Docks Ghosts of London Hidden London Historic Greenwich Horrible Olde London Olde Taverns & Inns Other East End Murders Pirates South of the River Suffragettes The Titanic The Tudors in London Westminster & West End Ye Olde City of London I can be contacted on : ian@awwt.co.uk
24 GRAMPIAN GARDENS
LONDON NW2 1JG
TEL +44 (0)7511 576641
MAIL ORDER ONLY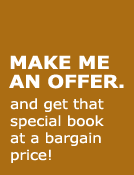 If you're after a particular title, enter your details below
Enter the details below and we'll be in touch shortly